Our Life Is Never Boring
Ok, so yesterday was a bust for studying. I ended up spending the day with Bubba and Porky.

Bubba usually comes over on Saturday's to help me with my yard. He mows and I putter in the flower beds. This in reality should only take maybe 45 minutes to an hour, but we end up spending a few hours screwing around in the yard and house. Plus I always feed the boys. I can't let two growing teenagers go hungry, can I. But damn, those two could easily eat me out of house and home. Then you add my own two, I need to take out a loan just to feed us all.

Last week, my car decided it needed some maintenance: brakes, rotors, oil change (major oil leak thanks to Jiffy Lube and this is another long story), spark plugs, wind shield wipers. The usual (one more to add to my list of financial stress). So, yesterday after yard work and a shower for me, we head over to Bubba's uncles house. He was to finish up with just changing the plugs. I would think it wouldn't take very long, but nope, whomever designed the engine for a Saturn made it very hard to replace (it's a V-6 and for a Saturn it does haul ass). You have to take apart too much shit, just to get to the plugs. It took him over 3 hours.

That was ok, the boys and I decided to play with J's toys while we were waiting.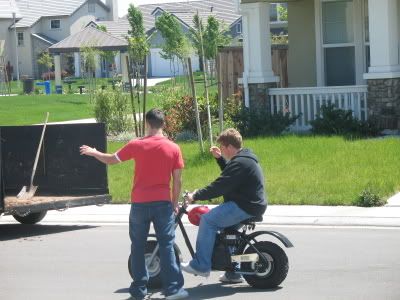 Bubba giving Porky instructions. Like father, like son.
Do you see a resemblance?
Bubba being the ham he is. Damn if he doesn't look just like his dad.
Porky
Do you see anything wrong with this picture? Notice the heels...

Afterwards, we headed over to buy me a new table and umbrella for the back patio. With the weather finally playing nice, I wanted to be able to spend the evenings and weekends outside studying. Besides, in the evenings it would be nice to eat dinner outside. The boys helped me put the table together. While I was finishing up, I look over and this is what I see.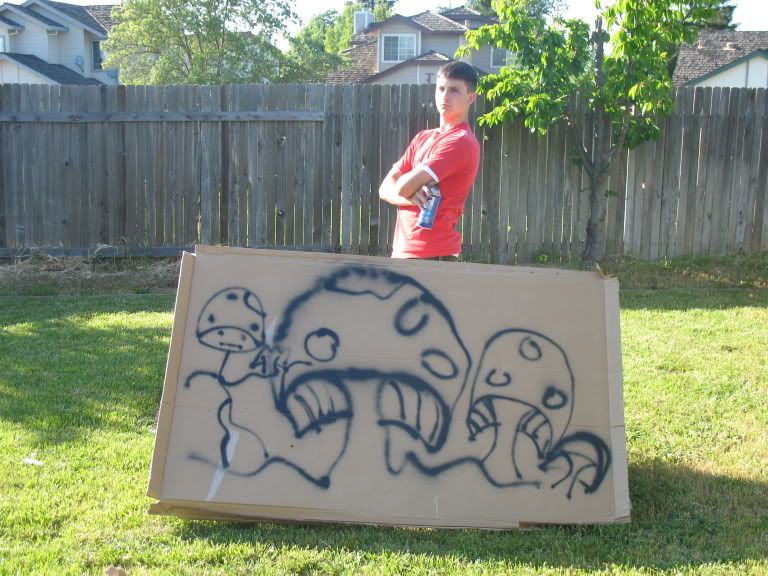 Damn if boys aren't creative. He took the box the table came in and had some fun with it. Then I get a big bug up my ass and decide we need to take pictures for Sniper.

Let me back up a little. I have always taken a shit load of pictures. I try not to let much go by without capturing our life. The kids and I love to review our scrapbooks and relive all the moments we have shared. However, since Sniper left, I have taken 100's more pictures than I ever did. I want to capture it all and send it to him. I also make sure I capture a few pics of Bubba and I together every weekend. I have taken some really good pictures for his dad. Sniper loves all the pictures I have been sending.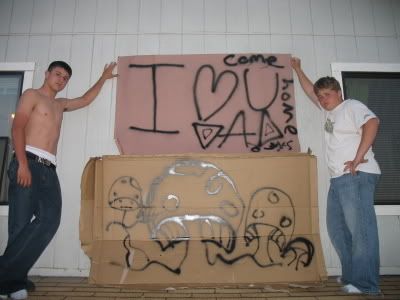 Do you see where we took these pictures? ON MY ROOF. Oh shit. I don't know what Sniper will think about this one. I am hoping he will laugh his ass off. It was pretty funny. We climbed out my bedroom window. For someone, me, who is afraid of heights, it was a feat just getting me up there. But damn if I wasn't laughing my ass off. What you can't see is I am standing on my tip toes just to see over the flags. I am not very tall, 5' 3". I just have to remember to hide the pictures when my kids come home. If they ever try anything like this, I will have to knock the hell out of them.

All and all it was a fantastic day. I know I didn't study, but it sure was fun. We did get a lot accomplished around the house. I can't wait until this becomes a normal part of our routine. Our life will never be boring between all our kids.

I will leave you with one more picture. Shhhhh, don't tell Sniper. I wasn't supposed to put any pictures up of me, but I just couldn't resist these pictures. Please play nice, I am tired of getting my ass reamed from Iraq, via the phone. I am still hearing it about the alarm.....



dyzgoneby
328 days until we can all play goofy together