Welcome Home Sniper
Thursday at 0044 my phone rings and I jump out of bed to grab it. Who else would it be? Sniper was calling to tell me he was in Maine. YEAH!!!! He's finally on US Soil. We talked for a few and hung up.

I walked out to the living room and Wingman was up. We went outside, I smoked a shit load and we talked for a few hours. Yes, I did pick the bad habit back up and I really don't frickin care at this point. I couldn't sleep. Go figure. I went back to bed and was out by 0300.

0700 my ass jumps out of bed. Just a few short hours and Sniper will be in my arms. In the short time span it took us to get out of the house, Sniper had called 3 times. He wanted to make sure everyone knew exactly what time he was coming in and would be there. Roger that Sniper, Wingman has your six.

0900 Bubba, Wingman and I where standing on the parade deck where in a short time Sniper will be coming in. Go figure we where the first ones there. For thirty minutes we just sat in Sniper's truck. I made the mistake of stopping and getting coffee. I wanted to be awake. Duh, I don't think I needed any help in that department. All the coffee did was intensify the fact that I was so excited, nervous and elated. I wanted to throw up. I have some pics thanks to Wingman and Bubba, but I still need to get them.

0950, we were told the bus is at the armory at Camp Pendleton. Sniper is only a short distance away. My stomach had huge butterflies. I smoked at least a half a pack in about two hours. I was starting to feel it.




I looked around the parade deck and there wasn't many people there. Maybe 30 at the most. I started thinking where the hell was everyone at. One either because everyone was told they weren't supposed to be there until 1130 or two, just maybe there wasn't many Marines coming in.

It ended up being the later. There was only 43 Marines that came in. I always hear of these huge homecomings, huge crowds, lots of people cheering as they came filing off the bus. It was nothing that I expected. There wasn't very many of us there, but that didn't matter, we welcomed them all home.

1030, the bus rolls in.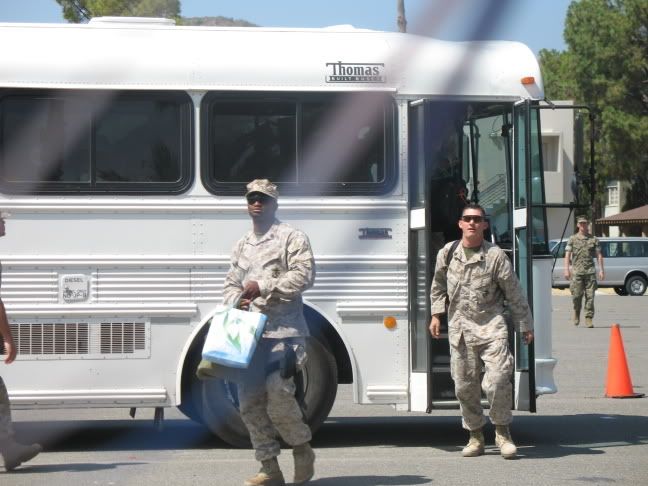 Welcome Home Sniper

We all got are hugs and kisses in. No one was missed. I was able to run up and wrap my arms around him and give him that huge hug and kiss I had longed for, for so long. I never want to let him go again, but we all know that's not that part of the life he lives and I stand beside him on.

After everyone hugged Sniper, I gave him a smoke and Wingman handed that man a beer, right there on the parade deck. I never seen a happier man to be home.

I am home now and will tell ya'll more stories of the last few days soon. There is so much to tell. From the homecoming parties, are time together, the battle scars he came home with, a few more I found out about recently, and my trip home.

*Unfortunately Blogger hasn't played nice the last few days and won't let me add pics. If you click on the film loop on the top you can see some of them. As soon as blogger will cooperate I will post pics.

dyzgoneby
Incredibly happy to have her man home safe and sound.