Easter Day
Last night I received a call from Sniper's mom. She called to check up on me and see how my studying was going.....well, it wasn't. I played lazy all day and watched movies. She also wanted to invite me over to her house of Easter dinner. We talked for awhile and I let her know I would be there.

A little while later Sniper called. It was great to hear his voice. I don't hear from him on the weekends and it was a surprise. He wanted to let me know he received my Easter Box, along with the other two. A Box packed full of movies and everything to go with it. The last one, was his shoes he had been asking for, for the last month and his bright red sheets. I was happy he got them, I just mailed them a week and a half ago. We talked for just a few minutes and then duty called. I was happy to hear from him. It made my weekend.

I spent a wonderful afternoon today with Sniper's family. When I showed up at the house, I had to stop and just stare at his truck. I know he is so far away, yet he feels so close. I sat there for a few minutes and had a conversation with his truck. I know, pretty pathetic, but what can I say I miss him.

As I sat back and watched his family interact, my insides were breaking. There were no tears on the outside, just on the inside. I was missing him so much and missing not having him to share this day with his family was hard. I took lots of pictures to show him what he missed.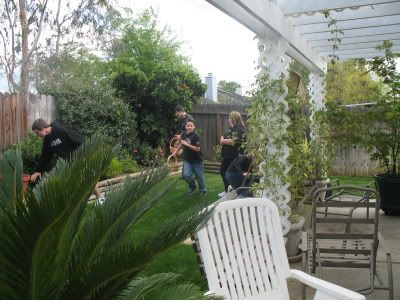 A lot of his family is pretty shy around the camera, but they all knew Sniper would be getting the pictures. Then again, these characters don't seem to shy around the camera.

Oh yah, I did get a few hours of studying this morning. All I can say is that shit is hard. It's going to be a long few months.

Dyzgoneby