Homecoming, Day of
After we left the Parade deck, we decided to all go out to lunch to welcome him home. As we get in his truck to head out, another Marine gave that man another beer. As we are driving through base he pulls out these goofy glasses his Marines gave him before he left. (If you haven't figured it out already, he came home before them. That in itself is a whole other story. I might tell it soon, but let's just say Hadithah 2 without someone dying). He wanted a picture to send back to them in Iraq. This is what he looks like. A happy Marine with a beer, a smoke and some great music pumping through the truck. Shhh don't tell anyone we were driving on base with an open container. Then again I don't think he gave a rip.



We head over to the restaurant where we are having lunch. Sniper still needed to change, but no one was sure where we were going. We stop at the restaurant and he jumps out of the truck and again this is what we see.


His Grandfather (retired Marine Capitan) and him saluting. I have one before he left and we needed one when he came home. Just awesome.

We head back to the pad so Sniper could change. We were on a time limit. As Sniper is changing, I look at him and realize how much weight he has lost. He looks great, but a little on the skinny side. He lost 41lbs this time. I haven't seen him that small in years. At the rate he was going, I was going to catch up with him if he stayed on schedule to come home March 2007. That's scary.

Damn he looks yummy enough to eat, but we were on a schedule. That would have to wait.

He wanted to stop by his bar for a beer & see an old friend on the way back to the restaurant. We didn't stay long.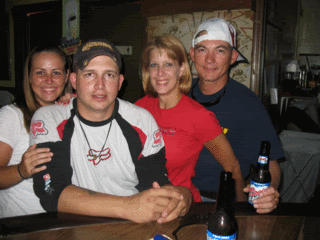 This is of T (his cousin), Wingman, me and my handsome Sniper.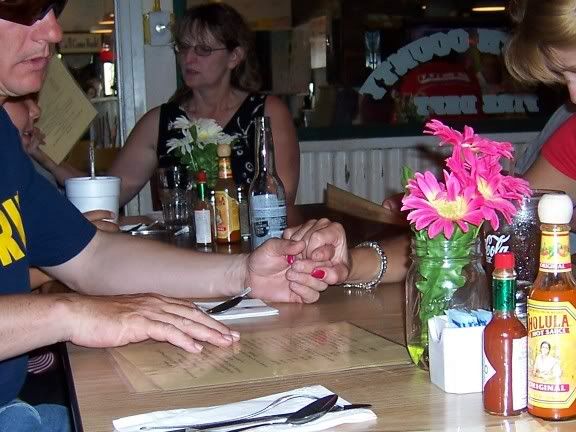 T took this pic and I didn't know it until we came home and swapped pics. She thought it was sweet. Me, it is more than that. I was comforting him with know one knowing.

See, when he arrived at March AFB he was informed one of his Marines, Rambo, was Medivac'd to Germany. No one knew what happened or how he was doing. (Rambo is going to be ok and arrived home today.) Other than him, no one has been injured under him and 4 days after he leaves, this happens.

Rambo was the one who dropped him off to come home. Rambo has been a friend to him.

I have talked to Rambo before and during this deployment on the phone. A few weeks before they deployed, they were at the bar and drinking (nothing new there) and they called me up. I told you he calls me often and puts other Marine's on the phone after he has told them the "story of us." I really feel sorry for them, nah. Well, that night Rambo and I talked for over an hour about a lot of things. He made me a promise that night (I won't forget it).

He promised he would bring Sniper home so that man could marry me. So he could walk down that isle to me. He promised me no matter what. As things progressed, I told him that it wouldn't sit well with Sniper, if he came home and not Rambo. Sniper would take the bullet for him. Rambo has a fiance to marry. We had that conversation a few times during this deployment.

Back to the pic. As Sniper was sitting there, he wasn't mentally their. He was with Rambo. I could see it. I could feel it. I was worried as well. I grabbed his hand to comfort him and it stayed there for a long time. Know one around us knew anything was up.

So that pic means more to me, then most of the pics that were taken last week. Thanks T, it means a lot.

That night we (Bubba, Wingman, Sniper & I) had a some what quiet evening at the pad. We had are own time together as well. I just had to kick Bubba out of the bed at 0030. Gotta love a kid that misses his dad and wants to sleep next to him. But damn, I missed him to and we needed some "us" time. After all it had been a long time since we had seen each other. *grinning ear to ear*

Don't worry. I still have more stories from the rest of the week.

More pics: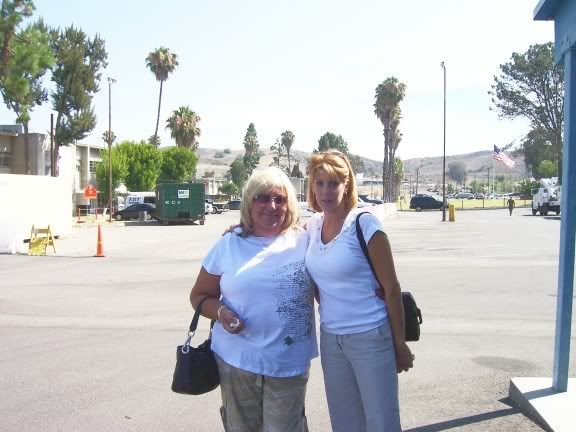 Sniper's Mom & I


My first hug in 6 plus months from Sniper.


This picture just moved me. The happiness of a little girl, excited to see her Uncle.

Dyzgoneby
Who misses Sniper and can't wait for his leave. Soon. Oh so very soon. Don't worry I will have the fridge stocked with beer. That's a promise. Just don't expect me to blog while he is here.